---
GENERAL GOVERNMENT CONTRACT NEGOTIATIONS
Text GG to 237263 to receive text updates from the team!
---
---
NEWS
Federation members decked out in AFSCME Green t-shirts packed a Senate budget hearing Monday (Nov. 14) – and the senators got the message that our ratified contracts and negotiated pay raises will go a long way to keeping the employees who provide vital social services, public safety, health and other […]
Read More
Read More...
The online votes are in and all 10 Federation contracts for 2017-2019 have been ratified. Online voting ended at 5 p.m. today (Sept. 30). All contracts were ratified by "overwhelming" margins, according to the Election Committee. The tally was certified at 5:32 p.m., Friday, Sept. 30, 2016 by the Council […]
Read More
Read More...
Voting Centers offer onsite opportunities for you to get answers to questions about the 2017-2019 Tentative Agreement. Updated 9/29/16 9/29/16 8am-5pm Olympia Field Office-5th Floor, 906 Columbia Street SW 98501 8am-5pm Tacoma Field Office, 6003 Tacoma Mall Blvd 98409 8:30-11am Olympia DOC Central Lunchroom 9-10am Port Orchard DOC 10am-1pm […]
Read More
Read More...
9/26/16 UPDATE - Interest arbitration decision issued BULLETIN: After several months of bargaining and a week-long arbitration, the arbitrator's decision is in and has many significant gains! Keep in mind all DOC employees will get the 6% COLA over the life of the 2017-2019 Contract in addition to the base […]
Read More
Read More...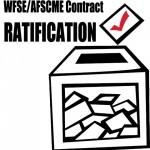 Updated 9/14/16 1:00pm CONTRACT RATIFICATION Negotiation of the 2017-19  TENTATIVE AGREEMENT (TA) between WFSE and the state of Washington covering GENERAL GOVERNMENT contract concluded on 9/13/16. TENTATIVE AGREEMENT SUMMARY (2017-19 Contract) This is a summary that highlights and explains the most significant provisions of the Tentative Agreement (TA) reached between […]
Read More
Read More...
9/13/16 5:30 P.M. BULLETIN: Tentative agreement reached on new General Government contract with 6 percent raise over two years, hold-the-line health care article, first increase in vacation time in 40-plus years Tentative agreement was reached earlier today (Sept. 13) on a new contract with across-the-board raises of 6 percent over […]
Read More
Read More...
King County members rallied at Seattle's Fishermans Terminal in hopes of catching Governor Inslee's attention as he attended an event to christen the Blue North fishing vessel. Members on the terminal were flanked by kayaking members in the water, both groups chanting, waving signs  and leafletting to bring attention to […]
Read More
Read More...
PERSISTENCE We negotiated into the late night Wednesday and Thursday but have yet to reach agreement with the governor's office on a new contract. Another bargaining session is being scheduled. We must continue to fight for a strong contract with fair pay, affordable health care and respect. That's why we […]
Read More
Read More...
TAKE ACTION TODAY Call Gov Inslee: 1-360-902-4111 Phone Message: Hi, my name is (NAME) & I want to leave a message for the governor. Please tell him to stop the revolving door of state employment. Invest in public employees by supporting real raises and no increases in health care costs […]
Read More
Read More...
MEDIA KIRO 7  Natasha Chen  8/31/16  99 percent of Washington state employees paid less than their counterparts VIDEO: The Stand David Groves 9/1/16 State employees urge Inslee:  Close the gap WFSE/AFSCME  Tim Welch 8/31/16 At the Rotunda on #InvestInWA day: State can't get ahead when its workers are 99 percent […]
Read More
Read More...
---
TEAM RESOURCES
TEAM INFORMATION
Lead Negotiators: Greg Devereux and Amy Spiegel
Supplemental Bargaining Negotiators:

AGR – Lewis Woods
DOT – Bob Keller
DOC – Anita Hunter
DSHS – Amy Spiegel
SCHEDULE
NEGOTIATIONS:  SEP 13, Red Lion Hotel – Olympia
---
Labor and Industries members Laura Farley (left) and Sarah Moran get ready for Unity Rally because s strong contract matters.
---